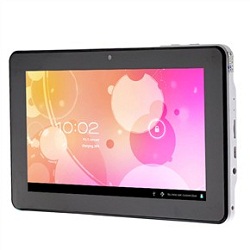 I just performed a search for All Winner A13 7 inch Android 4 Tablet PC on the web and found out that there are multiple variations of this Android Tablet PC everywhere.
The 7 inch Tablet PC with the All Winner A13 1.2 GHz processor, 512 MB of DDR3 RAM and 4GB of internal storage is considered "small" but "mighty" for the price.
For one, the Tablet PC's processor's speed its capabilities makes this Tablet PC a good device for Tablet PC gaming and watching movies. The speed and overall performance  of the processor facilities the smooth running of the Operating System, which runs on Android 4.0.
Even though this tablet is far less than $100, it comes fully loaded with the more features
Front Facing Webcam: Although the camera is only 0.3MP, it is just okay for video chat and taking pictures. Video chat is fast becoming one of the key features of Tablet PCs and this unit has it.
Micro SD card Support: The All Winner A13 7 inch Android 4 Tablet PC can take a 32GB Micro SD card, taking the maximum total memory of the device to 36GB.
Micro USB Port: This serves two purposes – one to connect to a computer to transfer files and the other is to charge the device using a computer.
Connectivity: This unit only supports WiFi and not Bluetooth. Connect to the Internet via a mobile hotspot or a WiFi hotspot. These days, tethering Tablet PCs to phones are fast becoming a cost-saving solution to many mobile users.
Multimedia: The All Winner A13 7 inch Android 4 Tablet PC supports the following audio formats: MP3, WMA, MP2, OGG, AAC, M4A, MA4, FLAC, APE, 3GP, WAV and Video formats: AVI (H.264, DIVX, XVID), RM, RMVB, MKV, WMV, MOV, MP4, DAT (VCD), VOB (DVD), PMP, MPEG, MPG, FLV, ASF, TS, TP, 3GP and MPG
 All Winner A13 7 inch Android 4 Tablet PC – Video Clip
Helpful Articles