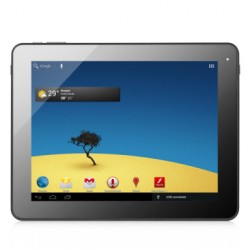 Let us take a look at the Cerebro 2 Android 4 Tablet PC – another powerful Tablet PC that comes with a bundle of resources from a Dual Core processor to 16GB of RAM + Bluetooth. Simply wonderful.
We will also take a close look at the benefits of this Tablet PC and why it could be an alternative to the Google Nexus 7 Tablet PC….did I really mention this here?
Performance – Let us start with the Performance. The Cerebro 2 Android 4 Tablet PC comes with a Dual Core Rockchip 3066 processor, operating at 1.8 GHz!! This is one of fastest dual core processors in the market. The Tablets with Quad Cores processors will still surpass this processor – this is were the Google Nexus 7 will out-perform this device.
However, looking at other performance parameters, this unit also has a 1GB RAM and has 16GB internal storage which will make overall performance excellent. With the extra facility for a Micro SD card, this unit can accommodate up to 48GB worth of data. Well one can also take advantage of free 5GB  from Google Cloud.
Storage - The Cerebro 2 Android 4 Tablet PC  has 16 GB of storage space. The storage space can be  increased to 48GB inserting a  32GB MicroSD Card. Since the cost of MicroSD cards are reducing, The use of micro SD cards is a good strategy to increase storage capability. One can also get 5GB of online storage from Google Cloud.
Screen:- Let us look at the screen – 9.7 inch, 10-multipoint capacitive screen, with 1024 by 768 resolution with a 4:3 ratio. This makes the screen somewhat similar to the Apple iPad.
Communications:- The unit comes with 2 Webcams 2MPs on each side, built in Microphone, speakers  and headphone jack. This makes it possible for the device to be used to make and receive video calls and listen to music and movies on the go.
Connectivity: The Tablet PC comes with Wireless 802.11 B and G support for Internet connectivity, one USB port to connect the device to a computer, a HDMI-out port for Video streaming purposes (up to 1080p) to a HD unit like a TV or projector. The Cerebro 2 Android 4 Tablet PC also supports Bluetooth.
Battery Life: This device has a battery life of about 6 hours.
Cerebro 2 Android 4 Tablet PC Video
In summary, the Cerebro 2 Android 4 Tablet PC is better poised to be a high-end Tablet PC; The Dual Core Processor at 1.8GHz, 1GB RAM, 16GB Storage and Bluetooth support are the resources you need to enjoy mobile computing.
Helpful Articles