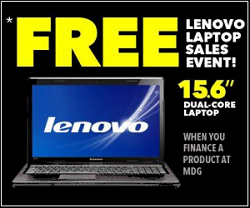 FREE Lenovo Laptop Computer!! – This stands out as an opportunity to save money while starting up a new business, buying furniture for a new house or getting students ready for back to school (BTS) in Canada. The catch here is that one has to finance a Tablet PC, desktop, laptop, Accessories, General Electronics, Mattresses and other appliances from MDG Canada before claiming your free Lenovo Laptop Computer.
Let us look at the Tablet PCs that one can finance from just 49 cents per day.
Features
10.1 Inch Tablet PC
1.2 GHz Quad Core Nvidia Terga 3.0 Processor
1GB RAM
32GB Storage
Android 4.0 Operating System
Features
Android 3.1 Operating System
10.1 Tablet PC
Nvidia Terga 250 Dual Core Processor
1GB RAM
32GB Storage
Features
7 inch Capacitive Screen
ARM Cortex A9 Dual Core Processor
1GB RAM
64GB or 32GB Internal Storage
 FREE Lenovo Laptop Computer – Finance a Tablet PC from 49 cents per day
Toshiba Excite: The Toshiba Excite AT305T32 10.1-Inch 32 GB Tablet Computer is an Android 4.0 Tablet PC that is equipped with  the latest Tablet PC processor, the Quad Core NVIDIA tegra 3.0 Processor running at 1.2GHz. This powerful Tablet PC comes with a 1GB DDR3 RAM, 32 GB Internal Disk Storage. With 4 processor core plus the 5th core that acts as a battery saver, this Tablet PC is considered one of the most powerful ones out in the market. Use this Tablet PC for school work, business, entertainment and gaming and you will enjoy every bit of the 10 hour battery life it offers. It comes with  Dual cameras, WiFi and Bluetooth support and also a dazzling 10.1 inch LED backlight – IPS Corning Gorilla Glass, Capacitive 10-finger Multi-touch display. You cannot go wrong with that!! Finance this at 99 cents a day and get a free Lenovo Laptop Computer.
Samsung Galaxy: This 10 inch Samsung Galaxy comes with the Android 3.1 Operating System (Honeycomb), configured with a Dual Core Processor, the Nvidia Tegra 250 running at 1 GHz, 1GB of DDR3, 32GB Storage, Dual Cameras and WiFi/Bluetooth support. It goes for 89 cents a day with financing and you can get your free Lenovo Laptop Computer.
Blackberry Playbooks: MDG has 2 Blackberry Playbook versions available in the Free Lenovo Laptop Computer offer – the 64GB and the 32GB versions. Both Tablet PCs come with the famous ARM Cortex A9 Dual Core Mobile processors running at 1GHz, 7 inch capacitive screens, Dual Cameras, Bluetooth connections and of course equipped with the BlackBerry Tablet OS (QNX) operating system. The Blackberry Tablet PCs costs 69 cents and 49 cents per day for the 64GB and 32GB Playbooks respectively.
When you finance these Tablet PCs, users will get the free Lenovo Laptop Computer with the following specifications
Model: AptonBook F15C Notebook
Size: 15.6 inch Widescreen
Processor: 2nd Generation Intel Core i5 Processor
Hard Disk: 320 GB
RAM: 4GB
Operating System: Windows 7
In summary, computer financing is another way of acquiring computers, including Tablet PCs more conveniently. To know more about MDG, please visit here.
Helpful Articles